I've recently realized the full extent of my obsessiveness.
I get into something new, then mine it to the max, cleaning out the seam until there's nothing left. Hard hat firmly on bonce, blinkers shutting out everything else except other nerdy pursuits, I lunge in, giving my all to the cause. No half measures for me, I'm a black and white, all or nothing kind of guy taking no prisoners in a world where grey is for pussies.
Previous obsessions have included the sonic output of various musical combos, card tricks, stationery, hiking, wargaming, post-modernist literature, Ancient Rome, the Holocaust, minority languages, tanks, World War Two aircraft, photography, song writing, audio engineering, quantum physics, website building, podcasting, podcasts, all things Mac, building computers, the paranormal, skepticism, T-shirts, travel, oil painting, sketching, pornography, playing guitar and bass, creative writing, cycling, the gym, badminton, computer games, boardgames and Swatch watches.
And these are just the ones I can remember. Told you I was obsessive. And, sad to say, many of these are still current. Many Japanese folk I come across are amazed at how many hobbies I have, but then again, Japan is the nation where people frequently list eating, sleeping and shopping as their sole leisure activities. Boring tossers!
Anyhow, I am not very proud to announce the unveiling of my new hobby (cue drumroll): whisky!
Yes, folks, I know I reported on this blog a couple of years ago that I had discovered the amazing world of peaty single malt scotch, but that was merely the prelude to the main act.
At that time I bought a bottle of Lagavulin 16 year-old, an Ardbeg 10 and a Laphraoig Quarter Cask. Testimony to my lack of immersion in the field was that, although I really enjoyed the first two of these pungent Islay whiskies, the bottles still contained liquid two years on.
Why? Well, I'm not really much of solo drinker, preferring to quaff in company outside, and the drinking of hard liquor is something that doesn't really seem appropriate for certain seasons such as summer.
However, this all changed when I became the official cook of Lightfoot Towers: somehow it just seemed natural to be throwing down a couple of shots of the hard stuff whilst prancing about the kitchen brandishing a spork.
Next up, a mate of mine happened to reignite my interest in scotch via his own recent experiences, et voila, the last month has seen the three bottles multiply into seven, and I'm glugging a couple of wee drams every single night…
First, the light, fruity and refreshing Glenmorangie Original:
And it's a hit! Easy to drink, and a pleasant counterpart to my peaty trio.
Next I took my obsession a stage further by going online and investigating the subject, spending hours at very nerdy (but funny) sites such as Malt Maniacs.
Then the next purchase : an unexpected return to the Bourbon! Well, the Scotch purists may mock the American version as lacking in complexity, but I'd enjoyed a lot of Jim Beam Rye in my youth, and so it was that I did a little research and came home with the incredibly smooth and drinkable Maker's Mark – another hit!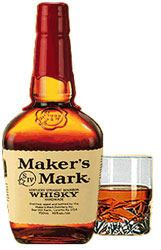 Shortly thereafter I learned that aside from the peats, the lights and the bourbons, there are also sherried and malty malts. Joy of joys – another visit to the offie needed! I came back with The Balvenie Doublewood and Aberlour 12 Year-old:
The jury is still out on these two – will need to neck a bit more before I can make a valid and sober judgement!
Now the real whisky fanatics, just like their winey counterparts, like to scientifically taste their beverages and produce the sort of wondrous summary outlined below. This example is for Ath'houl Ringbunn'ah 16:
Nose: Hints of old celery at first, giving way to bleach and perhaps a wee hint of ammonia.

Palate: Haddock, bromide and nail pairings with touches of broken glass.

Finish: Liver sausage and breeze blocks.

Verdict: Meaty big and bouncy, this Ath'houl will likely appeal to Vicars and pregnant teenagers in equal measure.
However, a couple of weeks into this latest addiction, and I suddenly got a bit paranoid one evening. Was it good to be drinking a couple of whiskies every night? Was I, in fact, on that slippery slope to alcoholism that had been well-trodden by certain members of my family before me? Shaking, I went to consult the venerable Wikipedia, and having sacrificed a goat or two, was told that I was in no way a wino, and that, moreover, a couple of shots a night were actually beneficial to both soul and body. Well, that's how I interpreted it, anyway. I was so pissed up it was hard to read it!
Cheers!